Character - The 5Rs
Pupils' character is developed through the school's '5Rs'. Pupils learn about respect, relationships, responsibility, reflection and resilience. Pupils are happy and safe as they largely live these values. There is an extensive programme in place to support their mental health and well-being'.
Ofsted, December 2022
---
Our Vision
'Forging future leaders who can be, not seem to be because they are built on a foundation of Respect, Relationships, Responsibility, Reflection and Resilience and have high aspirations. Esse Quam Videri'
---
Our School Character Values - The 5Rs: Who we are
Participation in the wide range of activities and opportunities allows students to develop and demonstrate our school character values; The 5Rs.
The 5Rs represent our school character values of Respect, Relationships, Responsibility, Reflection & Resilience.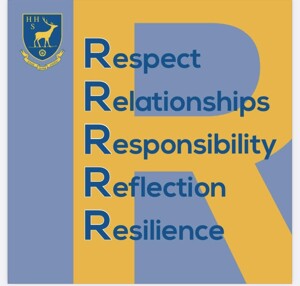 We use The 5Rs and HHEx to support character development and education.
In 2019, the DfE introduced The Six Character Benchmarks. 'These benchmarks summarise the most important features of good provision for character education and are intended to assist schools in evaluating their own work and planning for development' (DfE 2019)
A. What kind of school are we?
B. What are our expectations of behaviour towards each other?
C. How well do our curriculum and teaching develop resilience and confidence?
D. How good is our co-curriculum?
E. How well do we promote the value of volunteering and service to others?
F. How do we ensure that all our pupils benefit equally from what we offer?